This is a family study that involves individuals with autism, fragile X syndrome, and typical development, as well as their parents and siblings. One focus of our study is to use standardized test scores collected in childhood to relate parents' skills with their child's current performance. We are examining the scores of parents of children with autism and fragile X because we have seen general trends that many parents show strengths in math and sciences, while language sometimes is not as strong. We are particularly interested in families who grew up in Iowa because we have an established relationship with the University of Iowa where we can access parents' and siblings' test scores with their permission.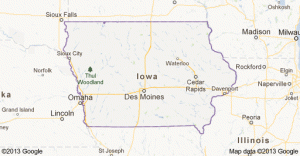 Although our lab is based in Evanston, IL, we regularly travel to Iowa to test families in their homes. If you are interested in participating, we will arrange times that are convenient for you and your family, and work with you in whatever setting you feel comfortable, including your home, a neutral public location like a school or hospital, or Northwestern University if you happen to be visiting Chicago.
We are currently recruiting participants for a study that aims to:
Discover patterns language use and social skills among persons with fragile X and autism and their family members
Utilize innovative technology and genetic analyses to investigate developmental similarities among family members
Who can participate?
This is a family study that involves individuals with fragile X and individuals with autism as well as their parents. The study also includes typically developing individuals and their parents. Families are being recruited from Illinois and Iowa because of a unique resource of developmental information that is maintained by the University of Iowa, and made available with permission.
What does participation involve?
We will ask you to do some tasks that involve words and sentences, pictures, and sounds. Other tasks involve looking at pictures and making judgments, doing puzzles, problem solving, and tracking eye movements. We will also collect a blood sample for use in this genetic study.
It will take approximately two to four hours to do the tasks, depending on how many you may have completed previously. We will schedule frequent breaks, and can break the assessment up into more than one session, if you prefer.
How are participants compensated?
Each participant will be compensated for their time as well as their travel and parking.